If you're planning your next summer vacation and searching for the best destination where you can find adrenaline and unique experiences, visit Interlaken! Known as the Capital of Adventure, the town offers activities for the entire family.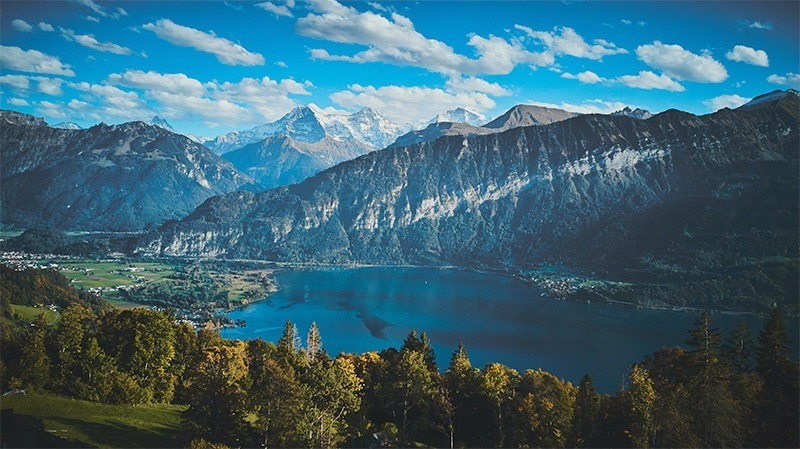 https://unsplash.com/photos/SMj2DY7QUfw
Here are 8 reasons to visit Interlaken in Summer:
#1 The weather in Interlaken is amazing during Summer
Besides having endless summer days, the temperature drops max to 14 degrees during July and goes up to 24 degrees. The best time to visit Interlaken is from June to September so that you can practice many outdoor activities.
#2 You can go canyoning
Get the taste of exploring nature in a fun and adventurous way. Go through rock formations and mountain scenery, do rappel, jumps, fast slides and swim all in one day. With beautiful mountains and lakes, Interlaken offers various locations to go canyoning, such as Grimsel, Chli Schliere, Zulg, and different levels that go from beginners to advanced.
You can read more about other activities in Interlaken here.
#3 River rafting in Interlaken is the most fun you will experience on the water
Interlaken is known for its white water river rafting, so it is definitely a place to experience peaks of adrenaline and unforgettable moments.
In crystal clear waters, surrounded by mountains, there are many options for river rafting tours. There are tours where kids from 8 years can participate and others for those who want adventure and challenges.
#4 Go kayaking on the crystal clear blue water of Lake Brienz
This activity can also be practiced during winter, but there is something magical about the lake during summer. Go through the calm waters of Lake Brienz and enjoy the spectacular Swiss scenery. Paddle through the water and experience the surroundings in a fun way.
#5 Fun at night! Pub crawl in Interlaken
After a nice day outside, how about having fun in one of the many pubs in the mountain town. Try some good beer, live music, and meet new people from all around the world.
#6 Take a train ride to Jungfrau and visit the Top of Europe (the highest train station in Europe)
Leaving Interlaken, hop on a train ride to Jungfrau and experience the beautiful panorama views that will take your breath away. There are several panoramic restaurants, shops, and exhibitions on the top.
#7 Bungee jump in the Swiss Alps
While enjoying a spectacular view, jump from Stockhorn Bungy, one of the world's most breathtaking and unique bungee sites. You'll be lifted 134 meters up in a mountain gondola and will jump over the lake Stockensee.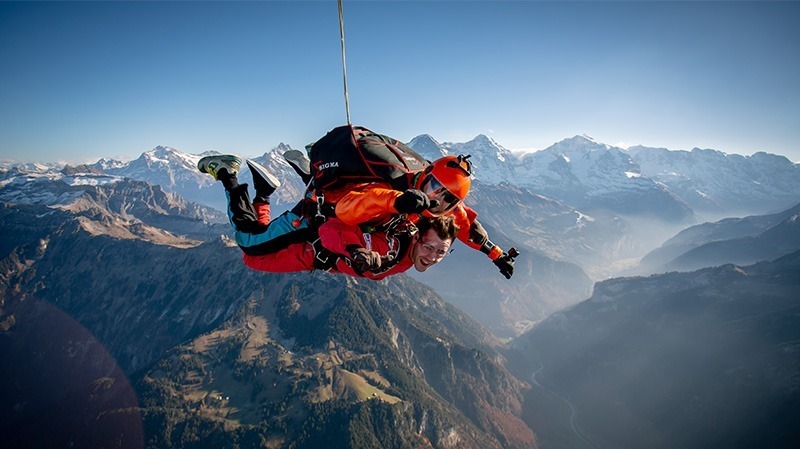 #8 Enjoy the rush of a lifetime on a Skydive from a helicopter
On a skydive in Interlaken, you'll have the chance to experience a scenic flight where you'll see all the incredible beauty of Interlaken, the two beautiful glacier lakes on either side, and the world-famous Eiger, Mönch, and Jungfrau on the background. Jump from 14,000ft (4.000meters), freefall for around 45 seconds and after the parachute opens, fly over the city like a pro.
Now that you know why Switzerland in July is excellent, especially Interlaken, start planning your trip! You can start by booking your next Helicopter Skydive Interlaken here.