Jumping from a helicopter is perfect for big groups! Why? Let us explain!
Five people can fit inside our helicopter, one pilot, two passengers (you and one other friend), and two tandem instructors. Although skydiving from an aeroplane will fit more of your group inside – it doesn't mean you'll be experiencing much of this incredible journey together. This is because once you're in the helicopter or aeroplane – skydiving becomes a one-on-one experience with your instructor – until you land again!
As we'll explain in more details in this article, not only do we have the perfect facility to accommodate your group, but skydiving from the helicopter means you'll get to experience a lot more together! Oh, and if you're interested in finding out more reasons why the helicopter skydiving is superior to the aeroplane check out our blog here!
Our Facility
Our comfortable, spacious facility means we have plenty of room for groups. We have a large table upstairs for your food and drinks, a children's play area, as well as a coffee machine, restroom facilities and a large TV with space for everyone to enjoy the video of the jumps.
Watch your friends exit the helicopter & land!
Our building is located right next to the landing field, so all you have to do is walk outside, look up to the sky and watch your friend exit the helicopter, then get your phone out to record their reaction as they come into land safely on the grassy field in front of you! An aeroplane skydive wouldn't allow this, because all of you would be landing at relatively similar times and this means you'll miss out on their reactions!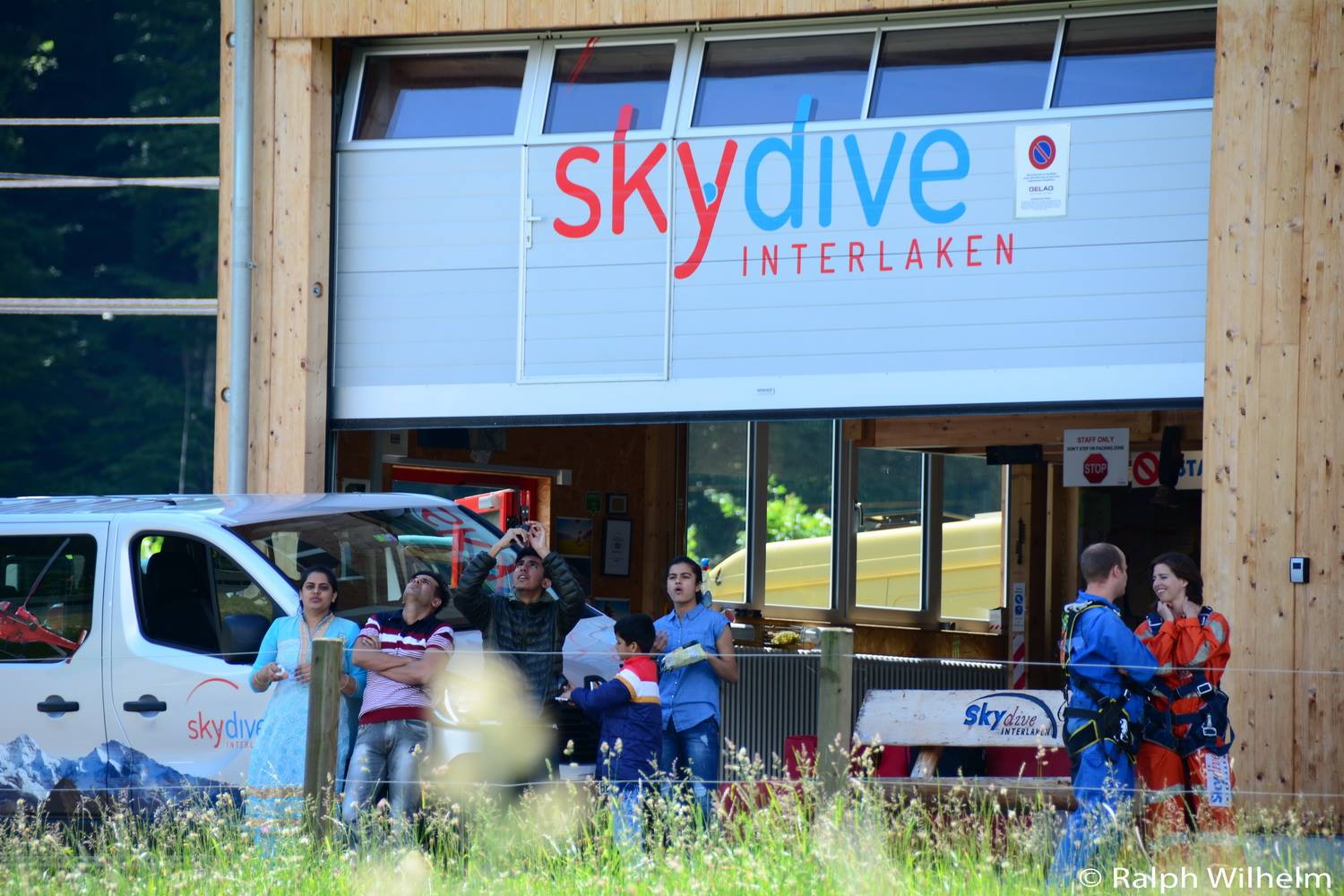 Check out the Jump on the big screen
Seeing as we can't be together in freefall anyway, the best thing is to capture it on video! Once your friend has landed we will replay the whole jump on our large TV located downstairs for the whole group's entertainment.
Now it's your turn to jump!
Not keen on jumping? No problem, you're welcome to just relax and enjoy watching your friends experience!
Our drop zone is set up so that it allows you to step outside the building, look up and observe your friends jump from the helicopter, see them land under the parachute right in front of you and then watch the whole experience on the big screen to get you extra excited for your own jump! So whether you are looking for an option for your bachelor party, corporate event, or just a private self-organized apero – we guarantee you a great atmosphere and fun day for everyone!