Ever dreamed about Skydiving? Here at Skydive Interlaken, we strive on giving the most incredible experience to every single one of our customers, and reviews help us reach this goal. 
Over the years, we have collected a whole library of reviews you can check out here. Or read on to find out what it's like to Skydive over the Swiss Alps from a first-person perspective!
Safety Briefing
After conveniently being picked up from my hotel by the Skydive Interlaken van, I headed upstairs to get checked-in. I immediately felt welcomed and at home at the dropzone! I then was introduced to my instructor, who gave me a jumpsuit and harness, he then explained how the whole process would work.
We then practised the free-fall and landing positions on the ground – at this point, it felt real and I already had butterflies in my stomach! But I also felt very relaxed – this was all thanks to the wonderful, professional staff. After getting the parachutes ready, we got into the van for a short but sweet ride through a small village to the helipad.
The Scenic Helicopter Flight
A little bit nervous, but mostly excited I climbed into the spacious helicopter and sat in front of my instructor. With a parachute strapped to our back – this wasn't just any old helicopter ride, our Skydiving journey was about to begin! The rotors started to spin, and I felt as light as a feather as the helicopter hovered away from the earth.
My eyes were wide open, taking in the vast mountainous landscape, passing gorgeous valleys, towering waterfalls, deep blue alpine lakes, and massive glaciers – the incredible beauty of this scenery completely blew me.
It felt like a lifetime that we were flying around in the heli and I had almost forgotten what we were about to do – until my instructor reminded me it was nearly time.
Standing on the skit
After the instructor put my goggles on and did his last checks, he put his hand out and gave me one last high five before he slid open the door. The feeling of cold air rushed across my body, and I realised – this is it! I was now standing on the skit of a helicopter hovering 14,000ft in the sky, the world looks a lot smaller from up here!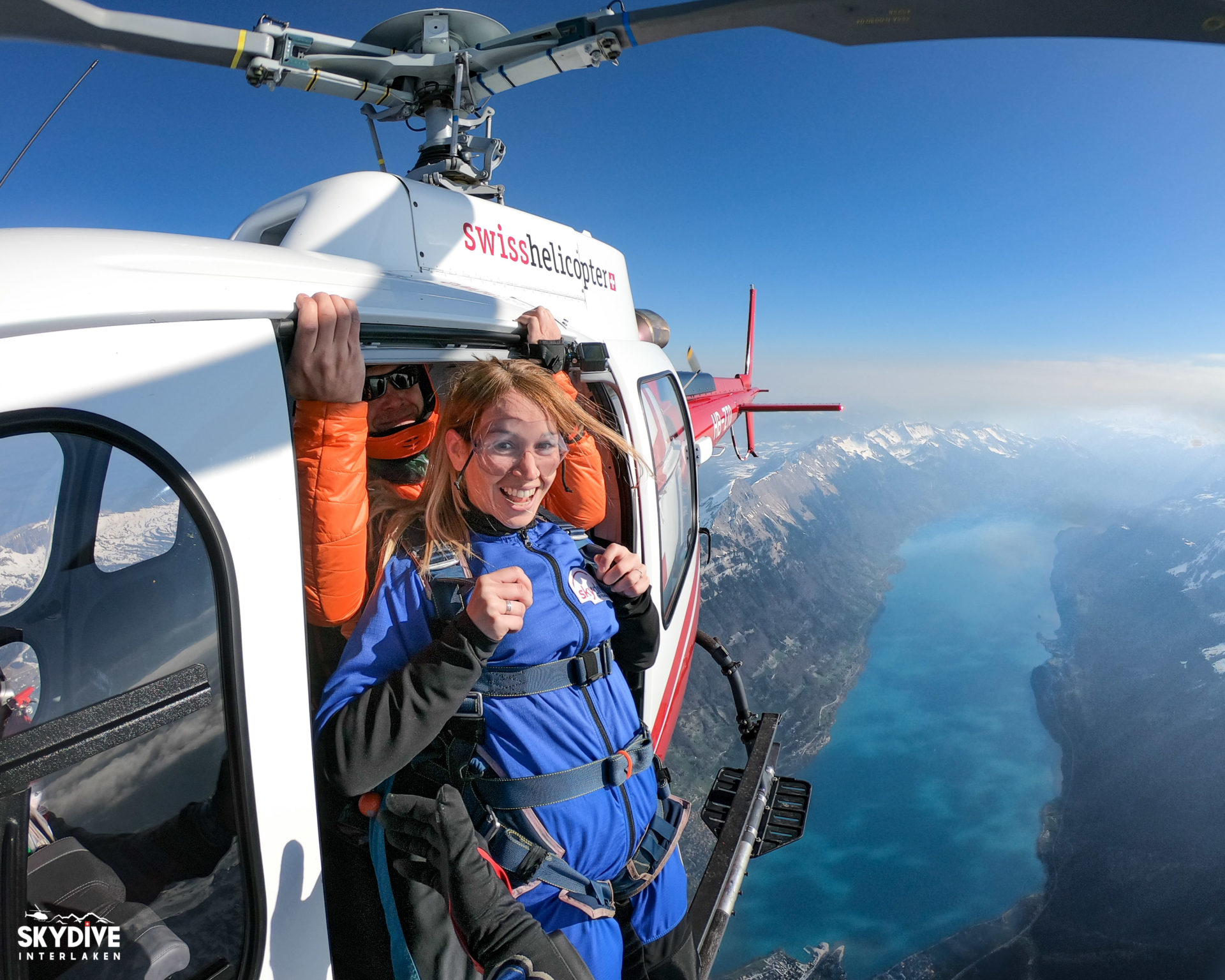 Freefalling
As my feet left the helicopter, I was completely in the moment, my mind had nowhere else to be. I was now freefalling towards the Earth at 200km/h, it's honestly a feeling like no other and I have no words to describe it! I felt the pressure of the air supporting my body, I looked around and I could see everything, I was completely free!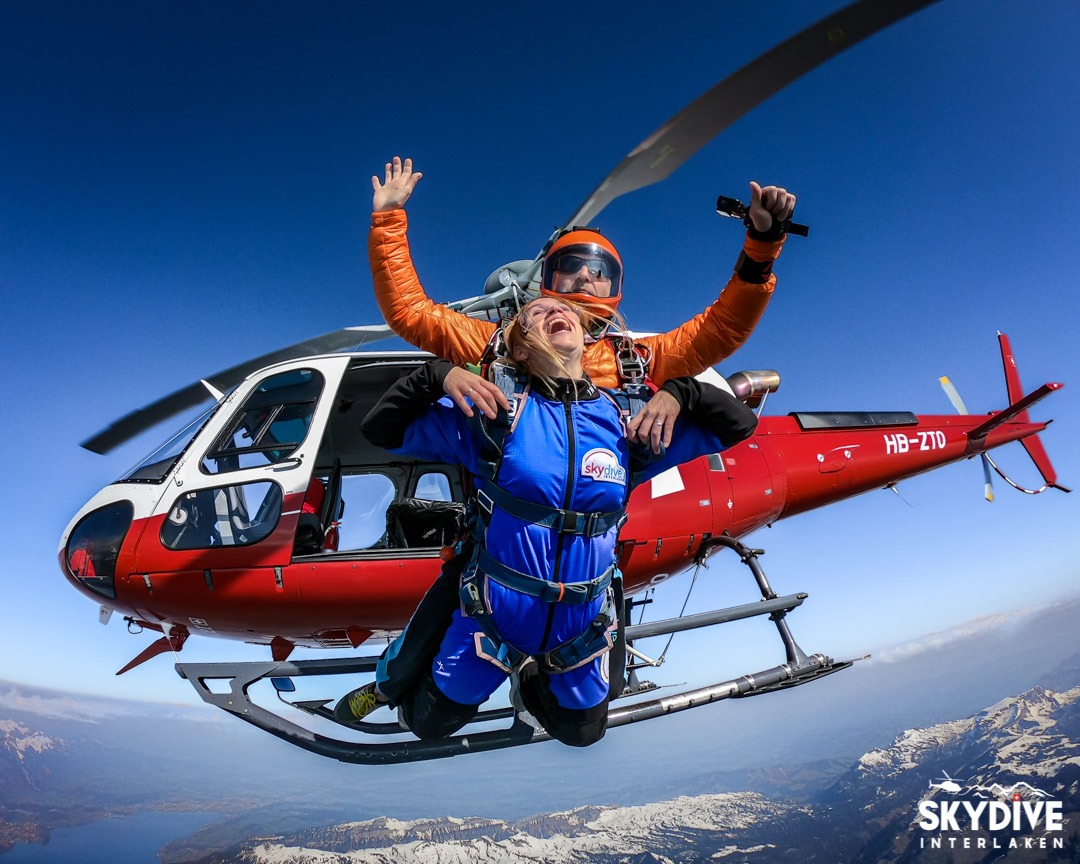 The Parachute Ride
Suddenly – everything went quiet, I looked up and saw the parachute, the adrenalin is still rushing through my veins and I couldn't wipe the smile from my face – I did it. At this point, I was completely satisfied and in awe. The parachute ride was relaxing and comfortable. My instructor handed me the toggles and I steered us above Interlaken with the beautiful glistening alpine lakes in the background. As I got closer to the ground I heard all of my friends and family cheering. A nice smooth landing on a grassy field gave me a feeling of absolute relief.
I am so proud of myself for jumping out of a helicopter from 14,000ft over the Swiss Alps, it is an experience that I will never forget and will sit in my heart forever!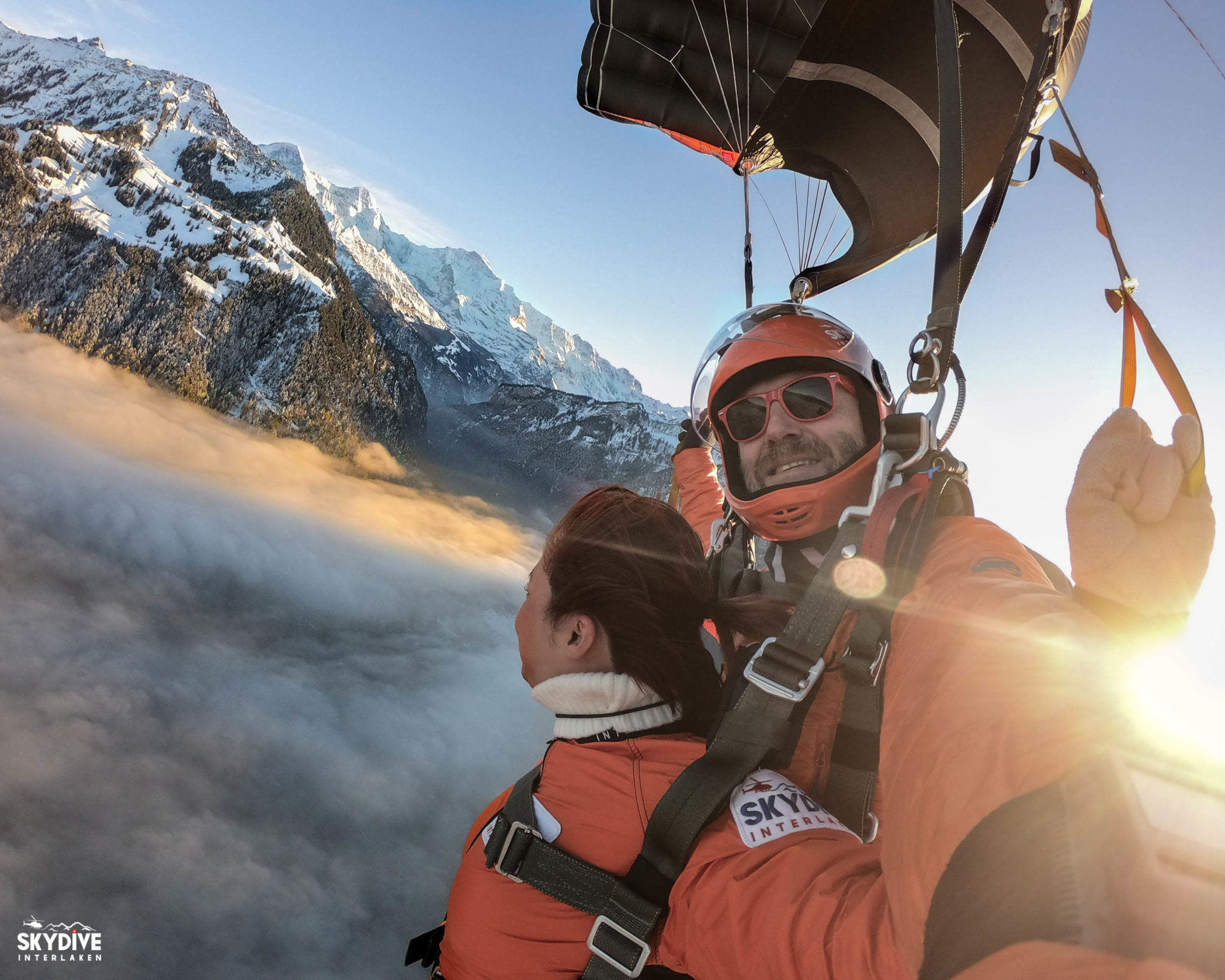 Why Switzerland and why Skydiving?
People are drawn to this truly magnificent country to submerge themselves in wild nature and beauty. Helicopter skydiving is the most extraordinary, unforgettable experience and one of the best ways to see the Swiss Alps.
We at Skydive Interlaken hope we can fulfil your Skydive dreams and welcome you to our drop zone in the near future! You can find out more on our website. If you would like to read more about the area, you can head to the Interlaken website.