Sitting on the edge of the Alps, and nestled between two deep blue glacial lakes is Interlaken. As part of the Jungfrau region, this area is best known for being central to many incredible landmarks such as the pristine valley of Lauterbrunnen and the mighty peaks of Eiger, Monch and Jungfrau. Often known as the Adventure Capital of Europe, Interlaken offers adventure seekers a diverse range of easily accessible activities.
So whether you are seeking adrenalin, adventure or relaxation – Interlaken is the place to be! With the colder weather creeping up on us, let's explore the best things to do in Interlaken this winter.
The Town Centre
As the temperature starts to drop and the snow starts to fall, Interlaken is transformed into a winter wonderland with lights, Christmas markets and a cosy atmosphere.
You'll never get bored in the evening with a wide range of restaurants, bars and a central ice rink called Ice Magic that provides regular events with live entertainment.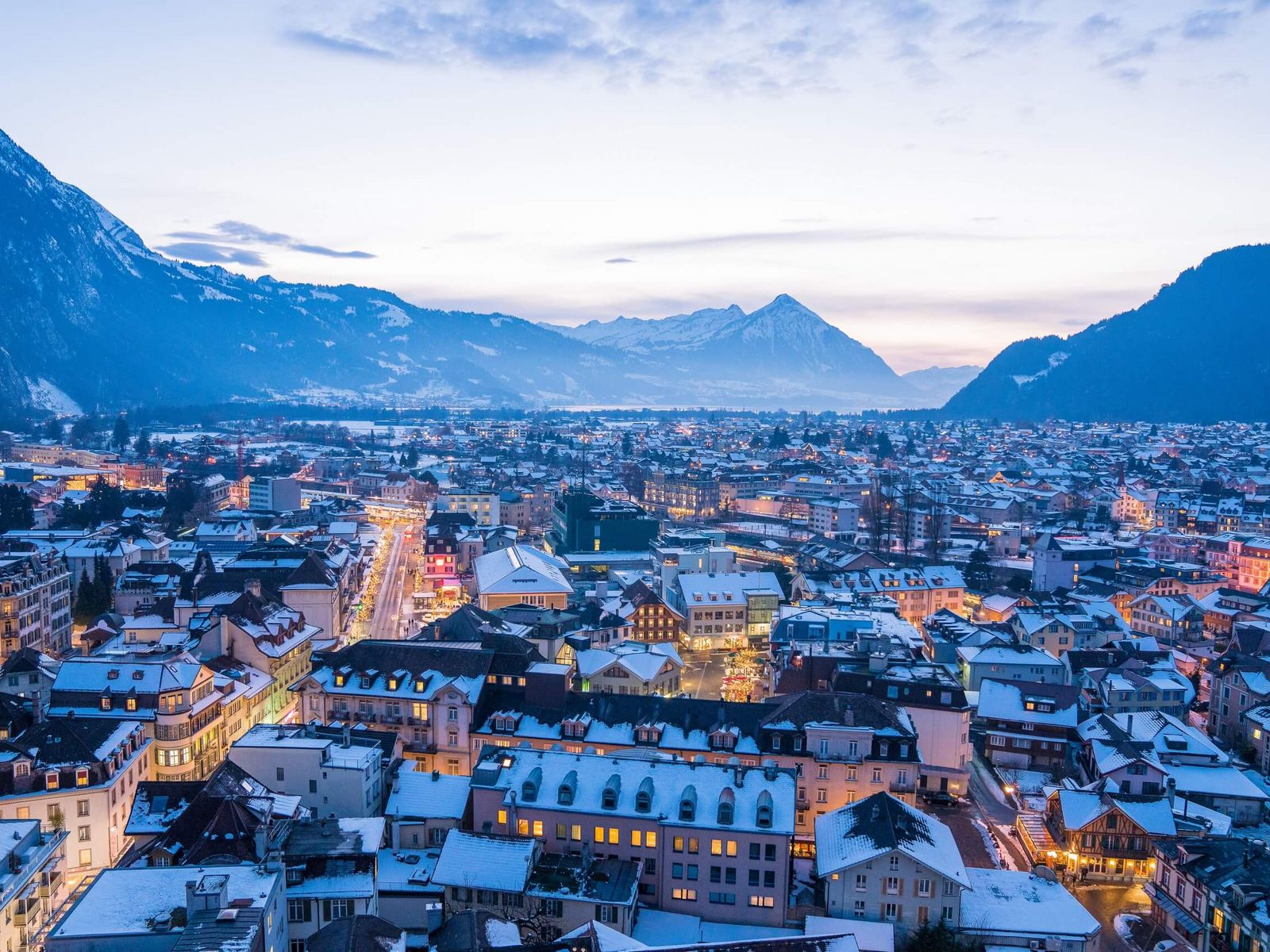 The Ski Resorts
Whether you want to ride on the pistes, explore the backcountry or just have some fun sledging – there are many ski resorts to choose from that are all easily accessible on public transport within an hour reach from the centre of Interlaken.
Each ski resort is different, but they all connect with each other easily. Let's take a look at the differences:
Kleine Scheidegg: With the new V-bahn opening this December, getting to the slopes at Kleine Scheidegg has never been faster! Kleine Scheidegg is by far the biggest resort in the area. This family-friendly resort has a wide range of pistes to choose from as well as a tipi tent for apres-ski and many restaurants/bars.
The Schilthorn: while also suitable for family's, the Schilthorn opens up some fantastic opportunities for free-riders, tour-skiers, steep piste skiers, paragliders and speed riders. It's about half the side of Kleine Scheidegg but has a diverse range of pistes. If the snow is good, you can ski from 2,900m all the way down to Lauterbrunnen valley floor at 900m!
First in Grindelwald: There is no doubt about it, First has the best snow park, so if you're into park skiing/snowboarding this is the place to be! There are also some excellent options for freeride ski-tours and some very good apres-ski spots.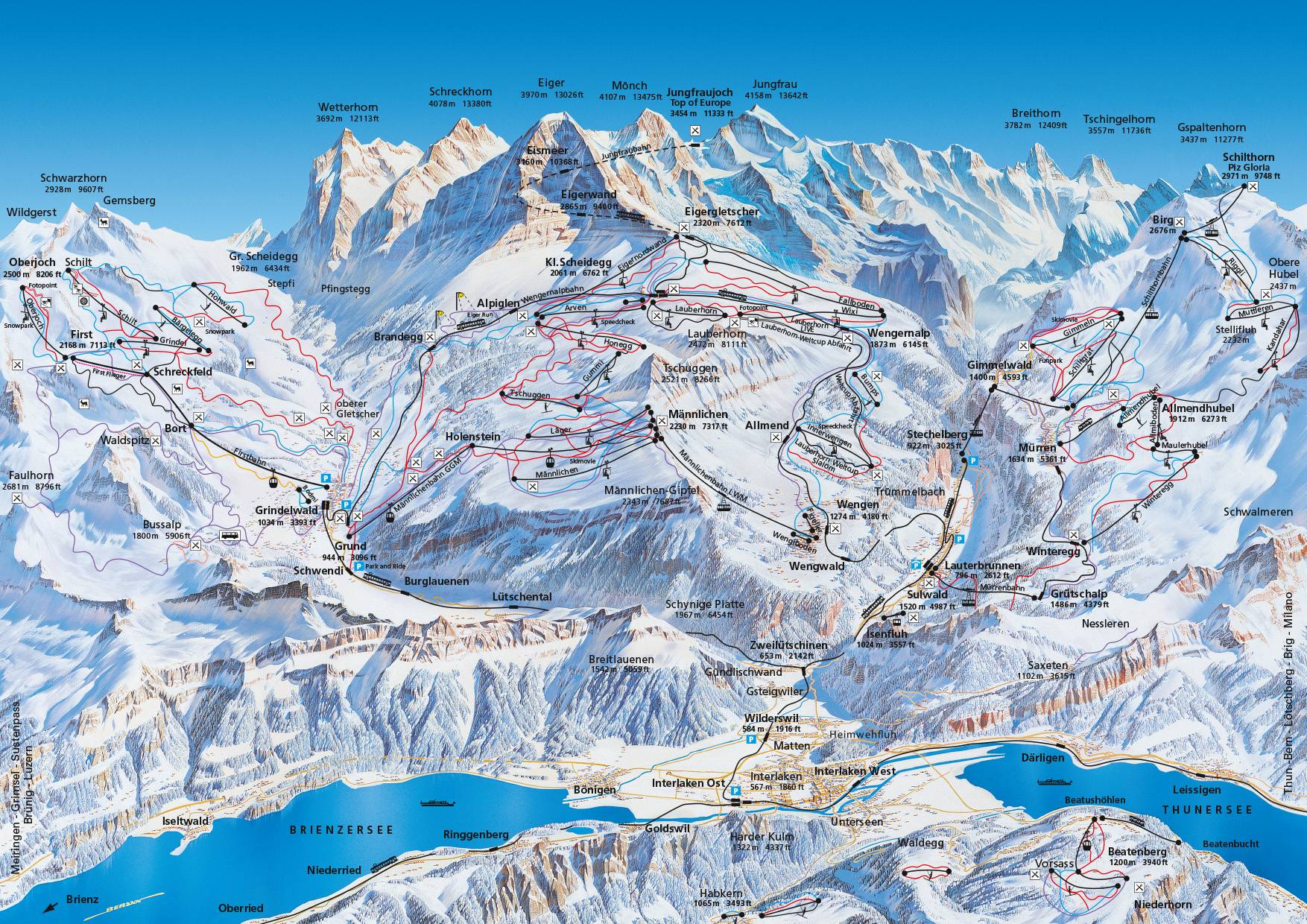 Top Attractions in Interlaken
Not into skiing or snowboarding? No problem! Whether you love being in the air, on the water or on the ground – there are plenty of other sights to see in Interlaken without having to set foot in a ski boot.
In the air
If you love adventure but don't want the adrenalin rush, then paragliding could be for you. Take a beautiful 20-minute flight over Interlaken to land safely in the middle of town.
If you're up for something a bit more exciting, then why not come visit us for a helicopter skydive! We'll first take you for a 10-minute scenic helicopter flight around magical valleys and snowy mountains before jumping out at 4,000m! Worried about the cold? Trust us – with all that excitement running through your veins, you won't have time to think about the cold. But just in case you do, we will give you a super warm jumpsuit to put over your clothing and we promise that our heated helicopters toasty all the way up to 4,000m!
Winter is by far the most beautiful time to jump, this gorgeous view will take your breath away and make your experience one to remember.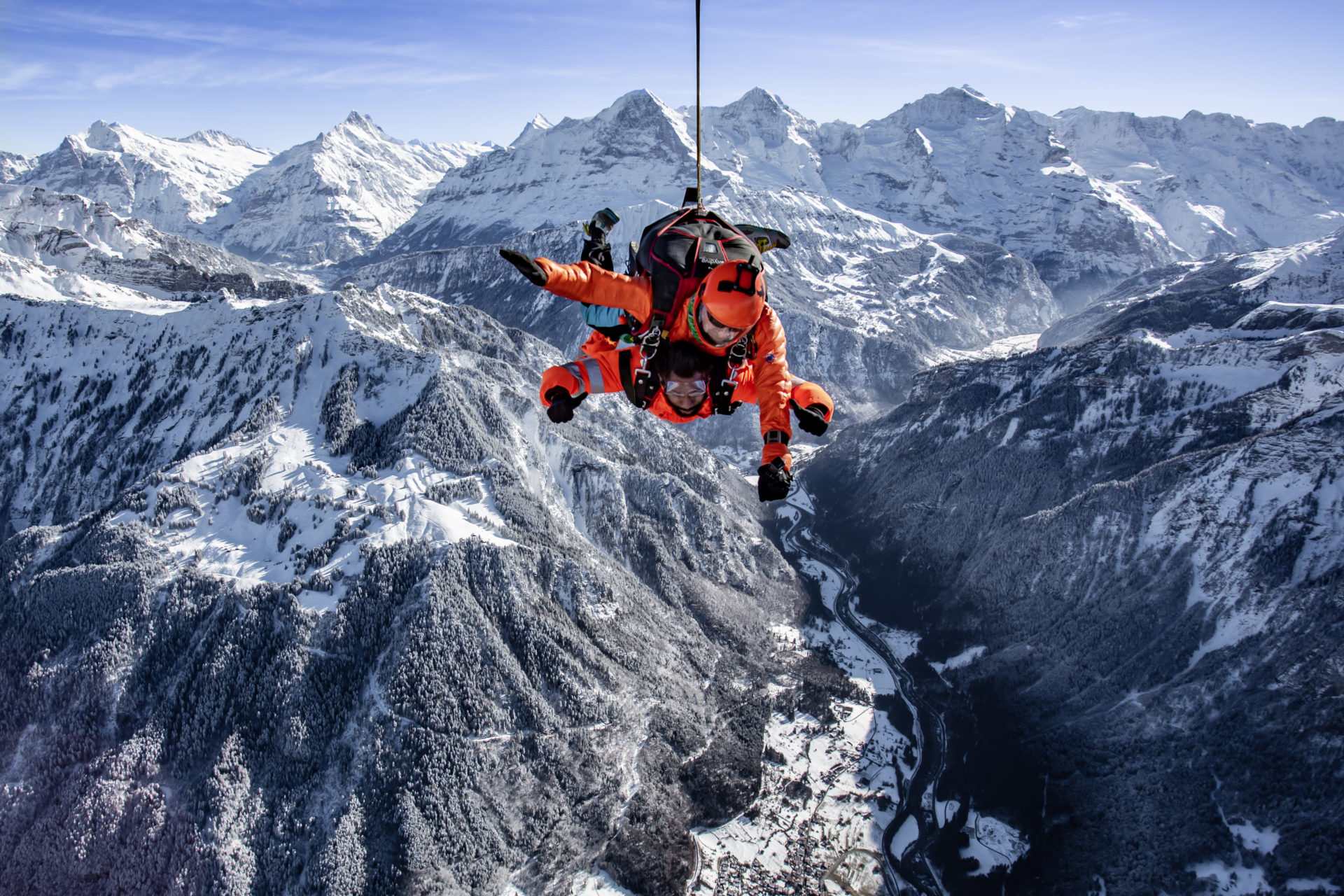 On the water
If you love being on the lake and feeling a bit adventurous, then go down and meet the team at Hightide Kayaks on Lake Brienz. Here you can take a magical winter kayak tour on the lake (don't worry you'll be wearing a warm dry suit!).
If you prefer a little more luxury, then head on over to Lake Thun and climb aboard their huge cruise boat. You can stand outside with the cool breeze in your hair, or if it's a little too chilly find a warm place inside the cabin next to the window. There are many pick-up areas and options around Lake Thun, and they have a wonderful selection of food and drinks.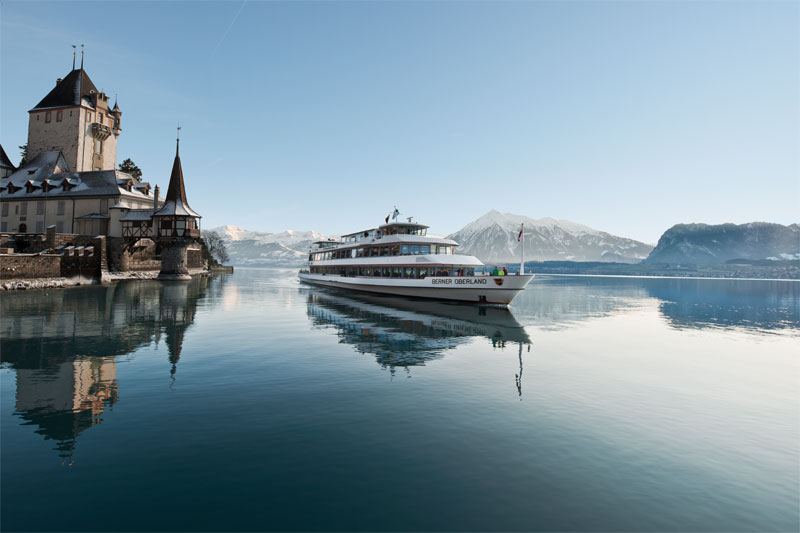 On the Ground
If you like your feet firmly on the ground then hop on the Harder Railway which takes you to 1,322m above sea level to Harder Klum. The picturesque restaurant is a great place to chill and sip mulled wine with your friends while overlooking the whole of Interlaken with Eiger, Monch and Jungfrau always in sight.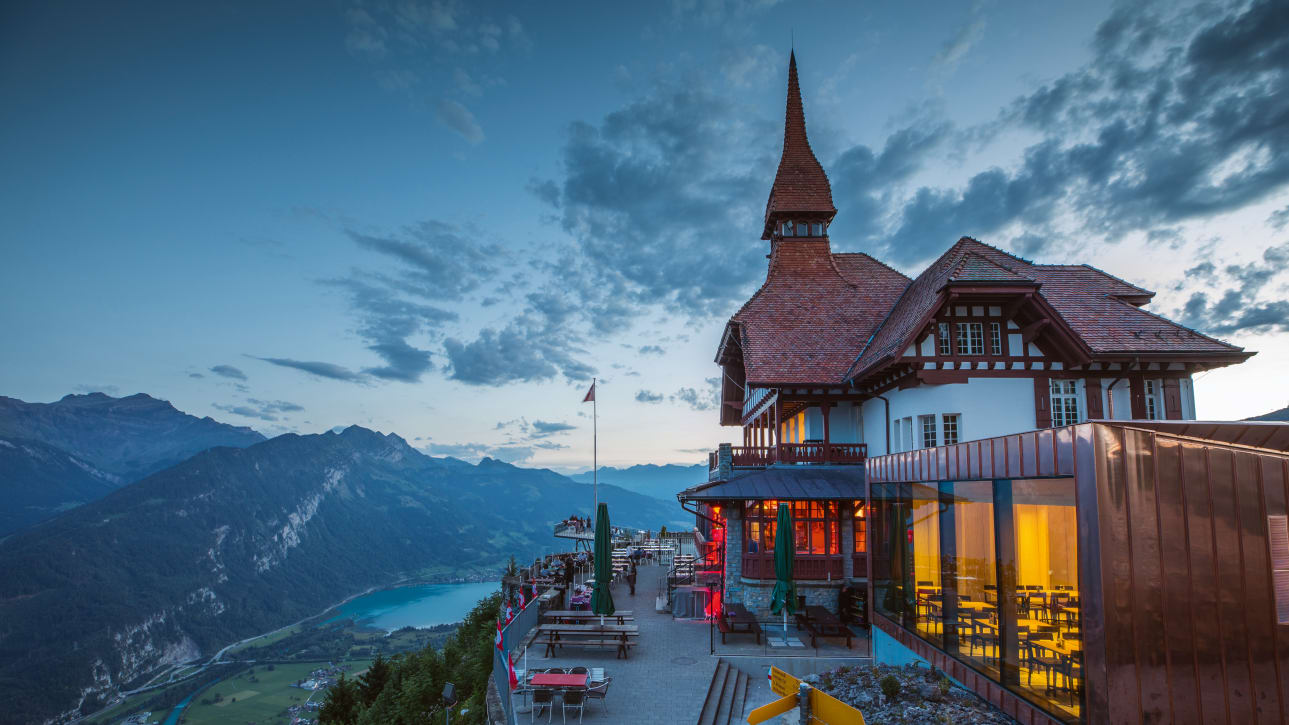 The Christmas market in Unterseen has a wonderful winter atmosphere. Here you'll be able to drink mulled wine, eat hot Swiss meals and enjoy the live entertainment.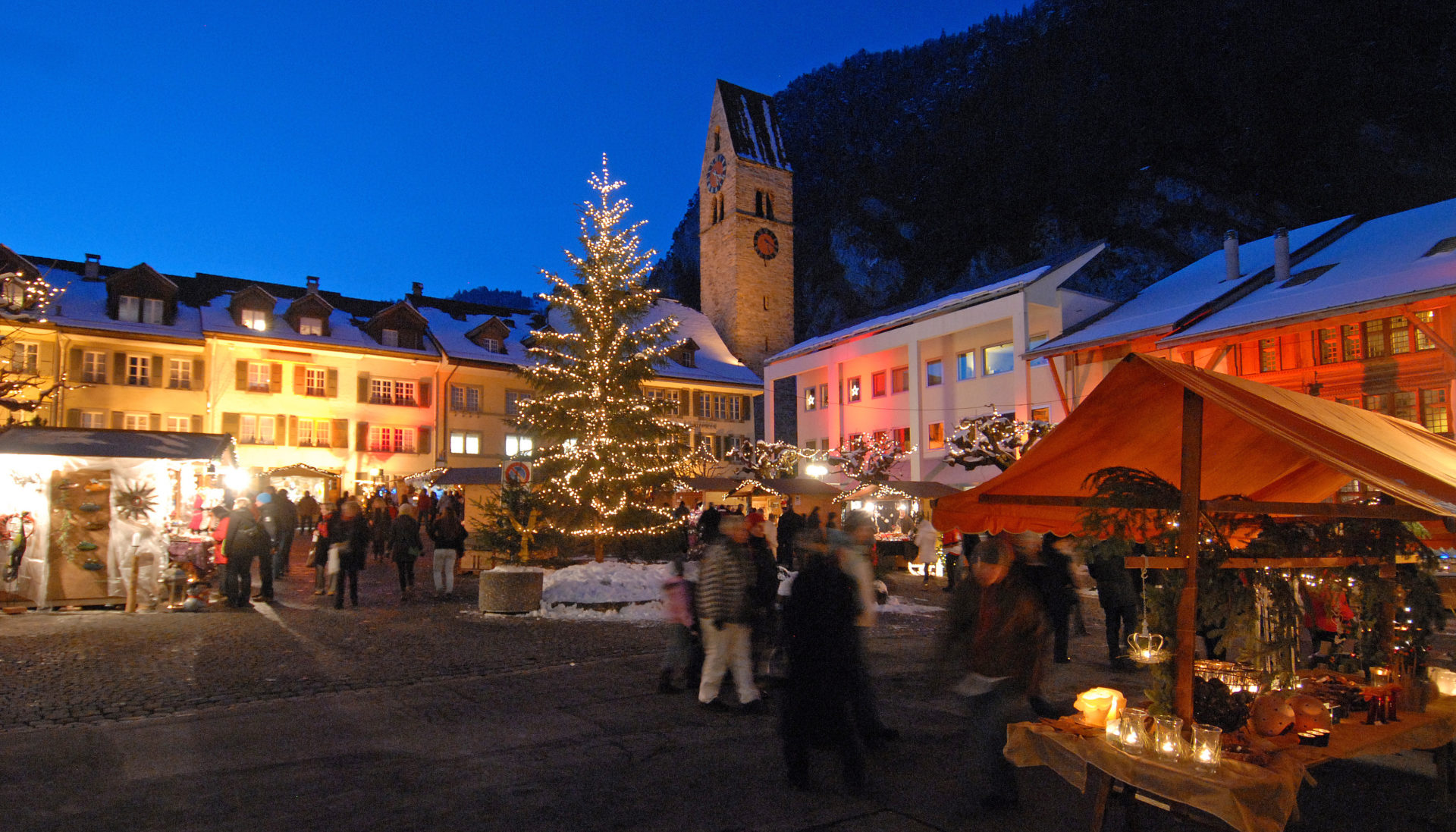 Top Attractions around Interlaken
One of the most beautiful attractions in the Jungfrau Region would have to be Jungfraujoch Sphinx Observatory at 3,571m where you can overlook the largest glacier in Europe – Aletsch Glacier.
The journey to Jungfraujoch is extremely interesting. The Jungfrau railway was a pioneering project which started back in 1896! The 9 km railway tunnels through Eiger and Monch and is the highest in Europe. As well as the Sphinx Observatory, there are many other activities to visit at Jungfraujoch including the snow park, ice palace and Lindt chocolate shop.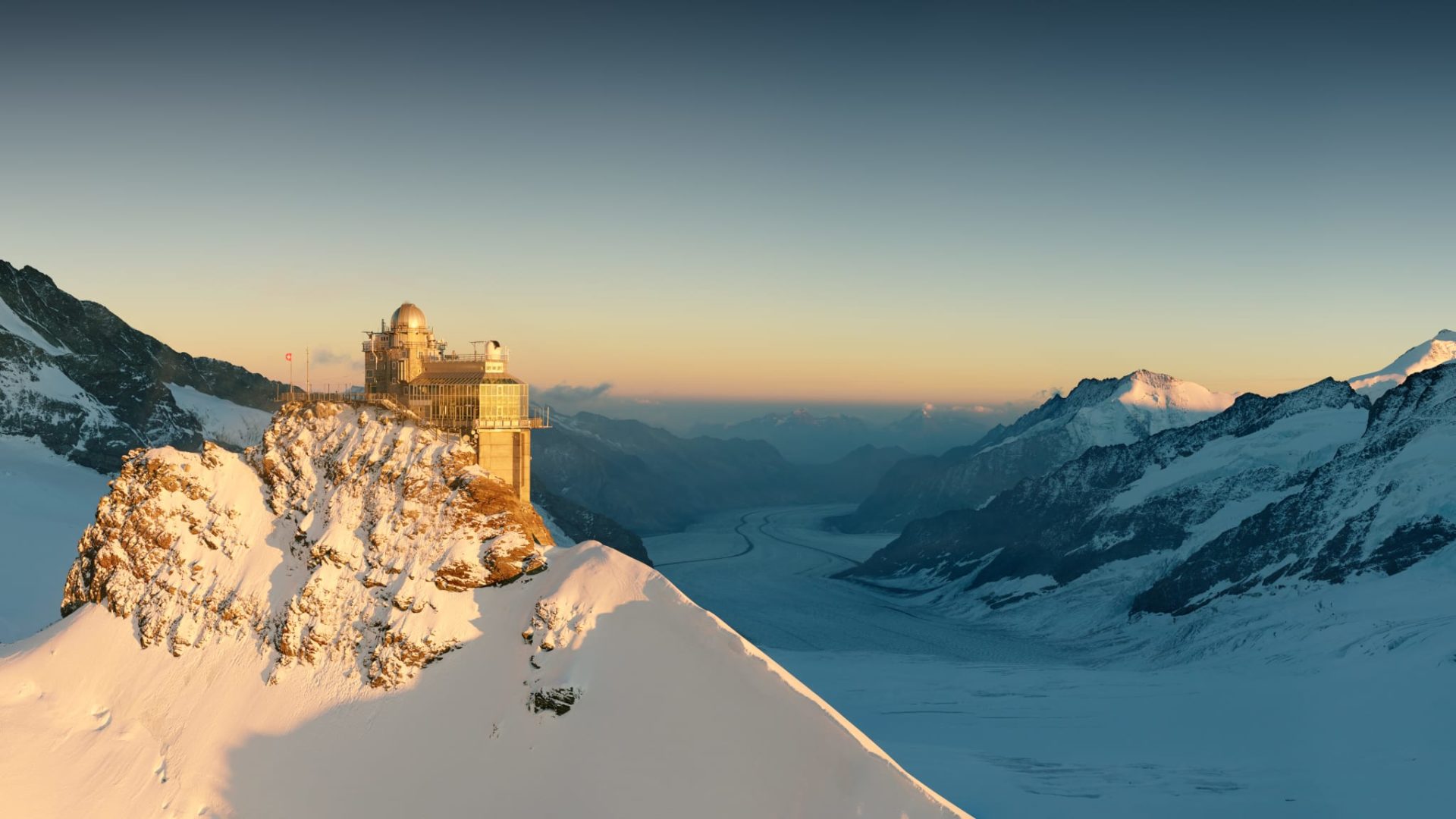 If you're after more of a wine and dine experience then definitely head up to the Schilthorn Piz Gloria. At just under 3,000m stands a building with a rotating restaurant inside! Here you can sit and have an all you can eat brunch overlooking hundreds of mountains in the backcountry.
Don't forget to stop at the middle station on your way to the Piz Gloria and check out the Thrill Walk!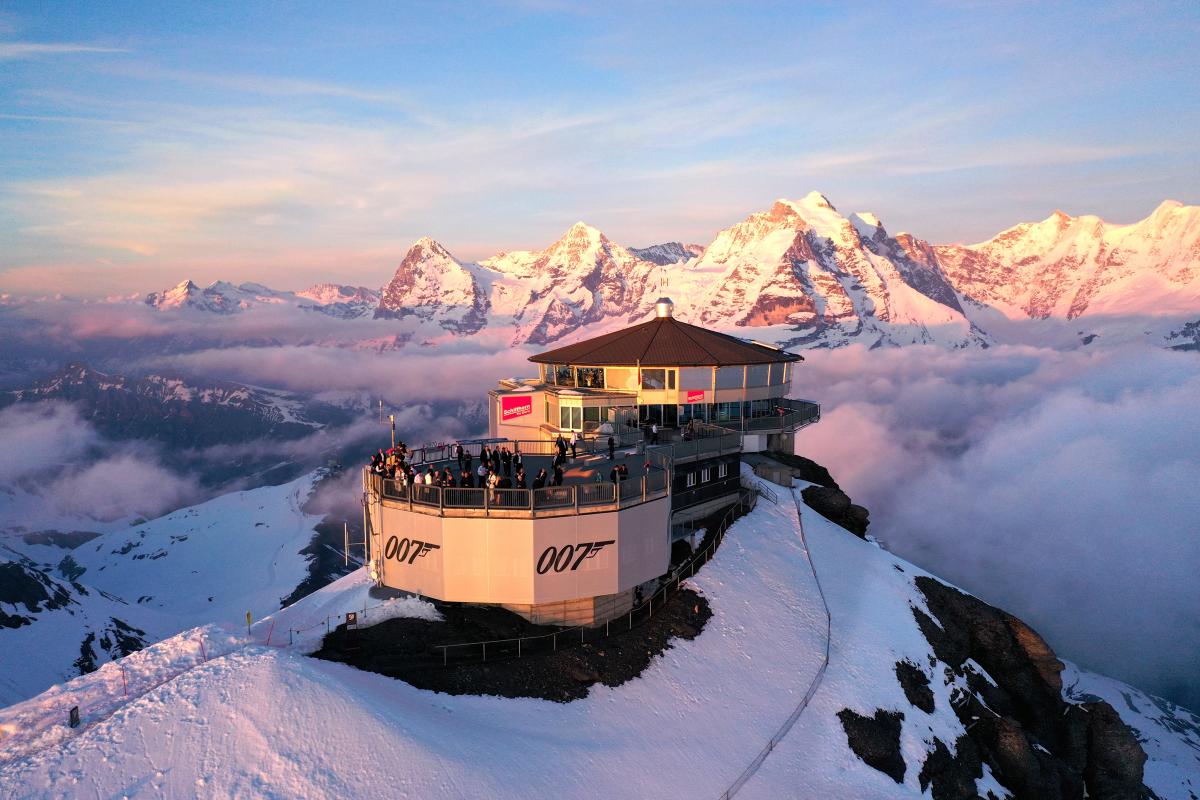 Interlaken in December, the perfect getaway
Whether you're seeking a snowy adventure or looking for a relaxing winter getaway – Interlaken has got it all. It's centralised location and diversity in activities will keep the whole family entertained. If you are interested in visiting Interlaken and want more information, you can visit the tourist information website.